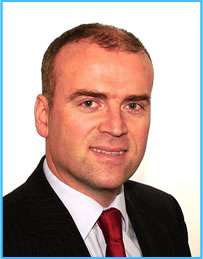 Raef Mac Giollarnáth provides management consultancy services to the public and private sectors. In the past seven years he has undertaken a comprehensive range of projects for both small and large organisations. Browse the neighbouring pages to see a list of previous assignments completed by Raef, as well as a sample of his clients.
Raef is also an associate consultant of Goodbody Economic Consultants. In this context, he has worked with such public bodies as An Bord Bia -The Irish Food Board, the Department of Transport, the Department of Finance, the Commission for Taxi Regulation, Port of Cork and Drogheda Port.
Prior Employment History: From 2001 to 2003 Raef worked as Head of Strategy Development for Eircom Enterprises. In that time he managed the strategic development and sale of certain small and medium sized subsidiaries of Eircom: disposals include the sale of Eircom's televoting subsidiary (then called Eircom Response) to Phonovation, and the sale of Eircom's nationwide chain of stores to Sigma Telecom. Prior to that, Raef worked for two years in the Corporate Planning and Strategy Department of Eircom on research, corporate planning and the IPO of the former state Telco.
Before joining Eircom, Raef was a Senior Engineer in the Planning and Projects Department of the CIÉ Group, Ireland's largest transport operator. He assessed the engineering and commercial feasibility of a varied range of proposals in the transportation sector; including bus, rail, and seaport projects.
Qualifications: Raef holds a Bachelor of Mechanical Engineering (Hons.) from the National University of Ireland at Galway. He has also completed Senior Management Programmes at the Irish Management Institute. In 1997 he successfully completed the Certified Diploma in Accounting and Finance (CDipFA) and was placed first in the world in Financial Management. He was awarded the Gold Medal by the Association of Chartered Certified Accountants, London.