Taxi Technology Europe
Taxi Technology Europe is the comprehensive guide to specialist solutions, equipment and technology in Europe's taxicab sector. The report is authored and published by Limatel Limited. This page provides information on the contents of the report and the options for purchase.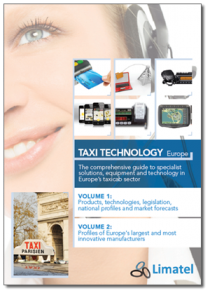 Taxi Technology Europe is written for all those with an interest in taxis, limousines and private hire cars with drivers. In Europe, €620 Million is spent every year on the purchase of specialised technology for a fleet of over 800,000 taxicabs. Specialised equipment and technical solutions include taximeters; radios and mobile data terminals; back office systems that support dispatch, customer relationship management and fleet logistics; and other equipment such as passenger information screens and card payment systems. In many jurisdictions, taxi regulators have mandated the use of less familiar devices such as fiscal cash registers and time-keeping equipment. The market is growing at 4% per annum and is predicted to reach €743M in 2015.
This report provides the first in-depth analysis of the market for taxi technology in Europe. Its aim is to function as the definitive reference source for supervisory authorities, manufacturers, and those operating in the sector. The report covers more than the topic of specialised taxicab equipment. It sets the demand for such equipment in context by providing a comprehensive overview of the regulatory and commercial environment in which such vehicles operate. This includes separate national profiles of the situation in fifteen European countries that represent the most valuable or innovative markets.
This report consists of two volumes. Volume 1 contains a study of the market in terms of products and technologies, legislation, market value and regional variations. Volume 2 provides profiles of over fifty producers of cab-equipment for the European market.
For a full explanation of the report's contents, as well as offline ordering options by phone, fax, e-mail or post, please download the attached brochure.
Queries can be answered and sample pages can be provided by emailing info@limatel.com. For online ordering proceed to fill in the electronic form below and fill out the required details. Like the brochure, the electronic form allows purchasers to choose secure payment by credit card, PayPal, bank transfer or draft.
Download: Brochure with Order Form
Electronic Order Form
Purchasers are requested to note the Conditions of Use and Disclaimer contained in the brochure for this report, which can be downloaded from this site. This publication is limited in its circulation, and may not be copied, lent, sold or given to third parties without the prior written permission of the publisher.
Please fill in the form below and we will contact you to ensure a speedy processing of your order: